Social Events and Activities
As a club we provide a variety of opportunities not only to run together and compete in local races, but to meet up after runs, or at our regular social events. Our members-only Facebook site is open for all club members to share photos, stories and encouragement with fellow club members. We seek not only to encourage our members to support each other in attaining their running goals, but also to build new friendships.
During the summer months from end of April to early September we do a trail run each Wednesday (our famous SWET runs) from a wide variety of local pubs in the surrounding countryside, and many runners stay behind for a drink afterwards. At some of these the club lays on some welcome bowls of chips to accompany that post-run beverage.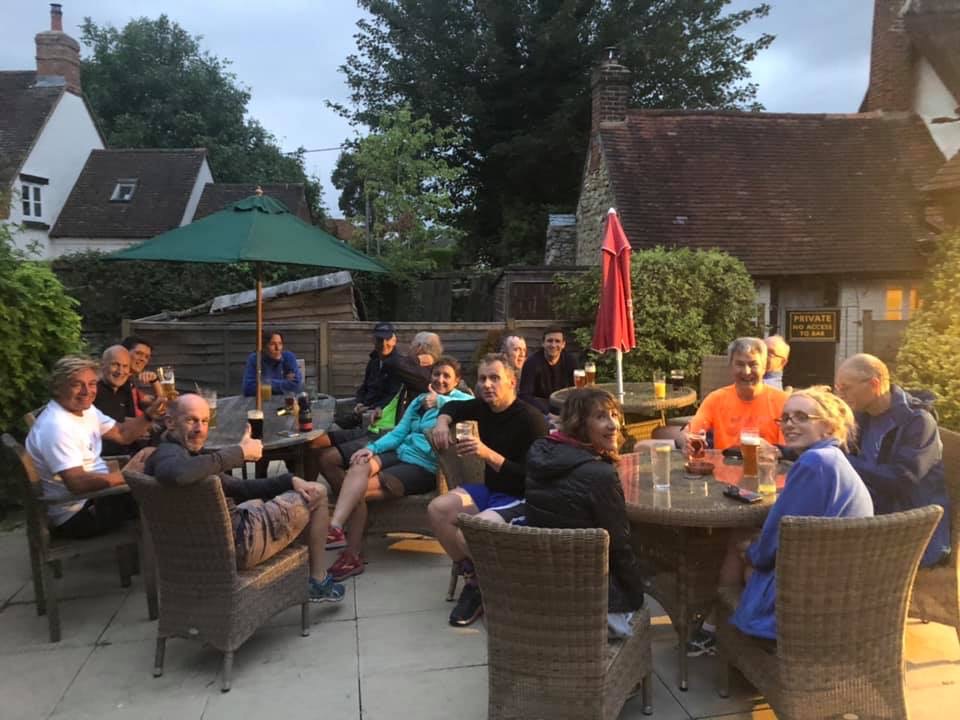 It has also been a tradition that after most Cross-Country races in the Chiltern League (5 races from October to February, always on a Saturday afternoon) that the teams drop off for a drink at a nominated pub somewhere between the event and Thame.
As a club, we normally organise some social events around the Christmas period. Sometimes these involve a curry night or pub crawl, and an off-road Mince Pie Burner a festive way to run off those holiday season calories.
Annual Dinner
The club holds an annual dinner, usually in the spring of each year. Non-running partners are welcome to join in the fun. Annual awards are presented at this dinner with the winners of various trophies (club championship, cross-country, handicap run) presented with their silverware. On special years (e.g. 25th club anniversary) we have enhanced the event with special venues and music.
Annual Awards Dinner Friday 26th November 2021
This is the postponed awards dinner to celebrate the results and efforts from races held in 2019. It will take place on Friday 26th November 2021 at the Peacock in Henton OX39 4AH, at 7pm.
The price is £25/head (subsidised by the club) and partners are welcome. Once you have made your choices then email Peter Neal (club social secretary) with your choices. Preferably payment should be by BACS. Please choose your 3 courses from the menu below.

I look forward to seeing you there. Peter Neal, Thame Runners Club Social Secretary