Brief History of Thame Runners
After the first London Marathon in 1981, long distance running truly got a boost across the UK with many towns and cities organising their own marathon. A group of runners from Thame, including Leo Smale and David Laver, were keen to get a team of 6 to enter the Abingdon marathon. To achieve this goal, Leo got an article and photo printed in the Thame Gazette, a weekly newspaper. The article encouraged fellow running enthusiasts to meet at the Thame Sports and Arts Centre (now called Thame Leisure Centre) on New Year's Day 1983 for a 9 a.m. run.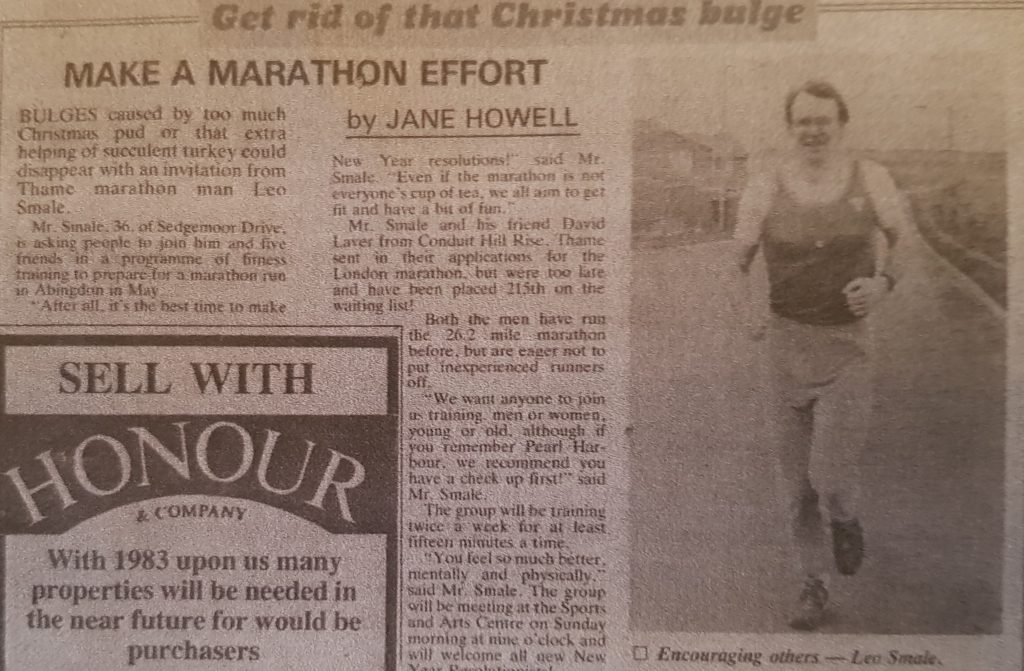 They were joined by the likes of Ron Rumens, Dave Flower, Andy Atherton and Graham Barnby for the first club run.
From then on, the group meet every Sunday for a run and expanded to include Wednesday night runs. Local races were entered as a team and led to the official formation of the club on 8th August 1984 when the club colours of gold and blue were agreed and the first subscription fee of £2.50 per annum. From its start of just 23 members in that year, the club expanded to 56 members by 1987.
The club took off in the late 80s and early 90s with a dozen or so members taking part in the London Marathon annually in the days when getting in was far easier than now. A coach was hired to take runners, family and spectators to the start from Thame. An extra night of training was introduced on Mondays, initially billed as a ladies' night but eventually became a beginners' night, and all training runs still starting at the Thame Leisure Centre.
The Club Championship was launched in 1992 with Duncan Cooper romping home with that title in its inaugural year. The Club Championship has evolved over the years to encourage more members to take part but one of the key benefits is that there is at least one race a month where you know you will be joined by many fellow Thame Runners.
Rod Lavers was instrumental in getting the club into the Chiltern Cross Country League for the first time in 1995. We finished a credible 9th out of 18 clubs in Division Two in that year, and we now annually compete in the 5 race series. Since the start, we have exhausted a number of Cross Country tents, necessary for changing and storing of gear, protected from the outside cold, mud, and rain which seem to be compulsory for a proper winter Cross Country race. A post-XC pint has been a tradition to replace lost fluids and share war stories of the race.
The club's social side has always been strong with annual dinners including some memorable ones at key milestones such as the 25th anniversary dinner. This formal attire do was held at the Oxfordshire and one of the club's founding fathers Leo Smale flew over from the USA to attend the event and enjoy the live band after.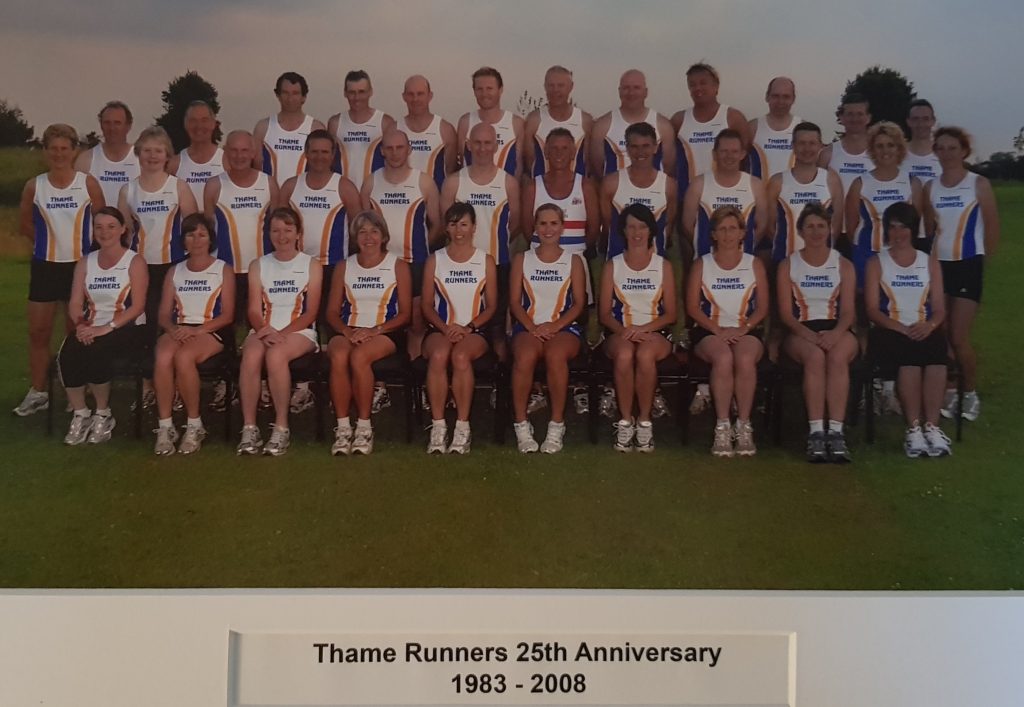 The SWET (Summer Wednesday Evening Training) sessions was the brainchild of Graham Turner and started in 1999, going strong until today. The concept was to make use of the superb country routes on offer in the local area from April to September, with volunteers taking it on to select a country pub, map out an off-road run for both a slow and fast group, with a social drink in the pub after.
Since inception, the club has grown to over 100 active members and seen a number of changes over the years. Publicity started as a one page newsletter, migrated to a large bi-annual magazine Thame Talk, with communications now done on-line via our website and Facebook sites. We moved from Thame Leisure Centre to Thame Racquets Club as meeting point for training runs, taking advantage of better parking facilities as well as a hospitable bar.
Some of the early events still exist but in a different guise. The Thame Road Race was originally a 6 mile race from the Sports Centre doing a double loop around the village of Moreton but was then replaced by the Thame 10km Road Race. The 6 Mile Moreton Double Loop still exists but as the club handicap course, an event keenly contested every summer by many club members.
Click below to see scanned in copy of 12 page Thame Talk magazine printed at the club's 25th anniversary in 2008 detailing the club's first 25 years.