During the Covid-19 social distancing restrictions we are running Virtual 5k & 10k Race during May to keep everyone motivated! If you are a club member or a local runner or someone who has just started to get out of the house, you are very welcome to take part!
To ensure an even competition we are age grading and holding both mens and ladies results, so it's all to play for
The Challenge will operate within the boundaries of the current Government restrictions, so you will be running solo or with family members on any suitable route in your local area for either 10km (6.2mi) or 5km (3.1mi). Age grading will be done in 5yr bands for those over 40, so M40/F40 will be for those aged 40-44, M45/F45 for those 45-49 etc, and for those fortunate to have not hit that milestone as yet then MSEN/FSEN is your category.
Simply record your 5km or 10km time using your watch, Garmin, Phone/Strava etc and email your time to 10k@thamerunners.club In your first email, simply include your age group, town/village and the date / distance of your run. A screen shot of your run would be perfect.
We will work out your adjusted time for age and put a table of people's actual and adjusted times on our website under results. We hope this is a fun challenge to encourage individuals but also it brings the club and local runners together in sharing results.
The challenge will run for the whole of May and you can submit times for either/both distances and also multiple timed runs, so we hope this provides a goal to focus on while we can't run together. We encourage you to take part and hope you enjoy sharing a goal with other runners.
Any questions, please email Reg at 10k@thamerunners.club
Method: We are using the Howardgrubb calculation on age and sex adjustment for the 5km and 10km times. It was decided to do this in 5 year bands so we are using the mid range age in a 5 year band – so if you are in the 45-49 age group, we use 47 as the age for all in that band, if you are in 50-54 we use 52etc. Also note that this age calculator is based on being relative to the world's fastest male or female time relative to your gender – so a raw 25 minute time for a male will be adjusted lower than a female doing 25 minutes. Bear in mind this is just a fun, low-key event where the real challenge is with yourself.
Thame Runners Members Only Lockdown Challenge – Round 3 18-31 May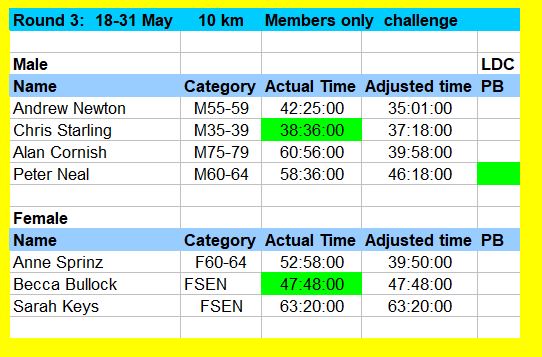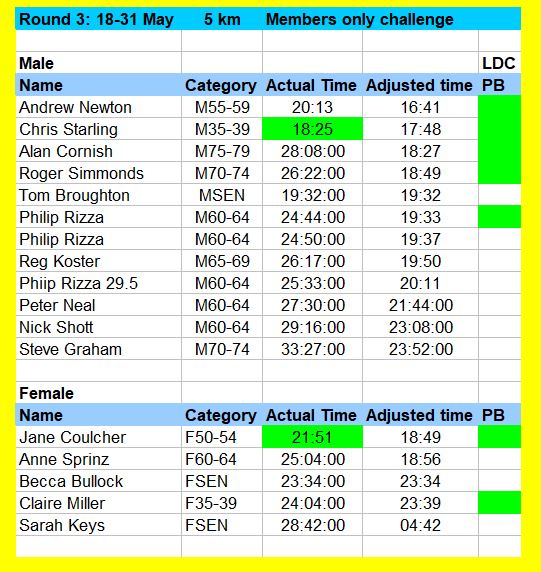 Open Challenge (Members and non-Members) to 31 May with all PBs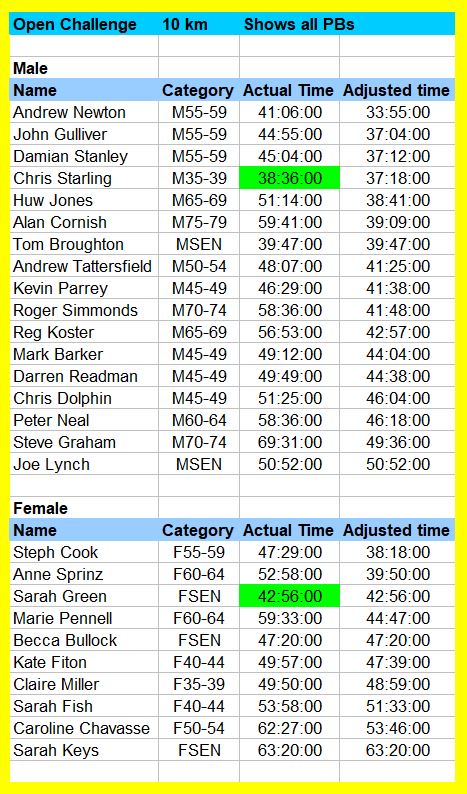 Thame Runners Members Challenge – Round 2 to 17th May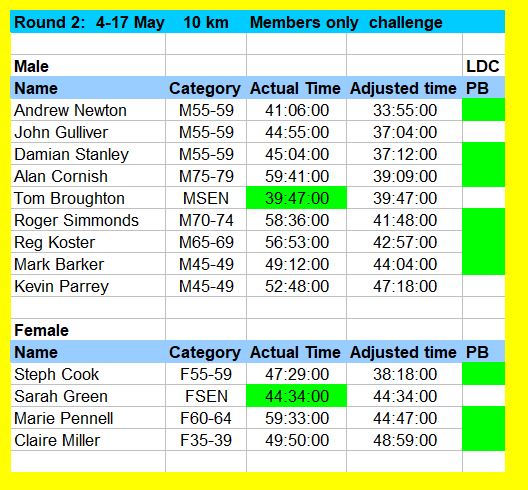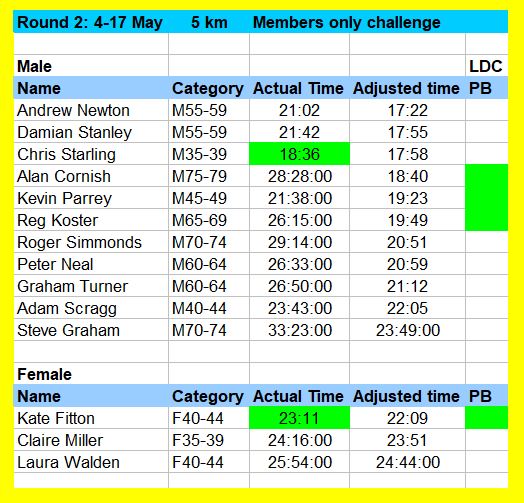 Thame Runners Members Challenge – Round 1 to 3rd May